The next edition of The Match will be the most star-studded yet.
According to multiple reports, Tiger Woods, Rory McIlroy, Jordan Spieth and Justin Thomas will headline the next made-for-TV match-play event, which is tentatively scheduled for Pelican Golf Club in Belleair, Fla., on Dec. 10.
The newest lineup was first reported by The Fried Egg, with Golf Digest also confirming the news via sources.
According to Golf Digest, the 12-hole match is expected to start at 7 p.m. and be played under the lights.
This would be the seventh playing of The Match, which is broadcast by Turner Sports, and the first with four pro golfers. The first iteration featured Woods vs. Phil Mickelson, and four of the five since were a combination of pro athletes like Mickelson, Bryson DeChambeau, Tom Brady, Stephen Curry and Peyton Manning. The only other Match with just pro golfers was the fifth one, which featured DeChambeau vs. Brooks Koepka in November 2021. \
The last Match featured only NFL quarterbacks, as Brady and Aaron Rodgers faced off against Josh Allen and Patrick Mahomes in June 2022.
This will be Woods' third appearance in The Match, with McIlroy, Spieth and Thomas all making their debuts.
The Match might also be the first of two-straight weeks Woods, who played in only three official events in 2022, plays golf on TV. The week after is the PNC Championship, which Woods has played the last two years with his son, Charlie. He's yet to officially commit to it for this year, but it wouldn't be a surprise to see Tiger and Charlie team up once again.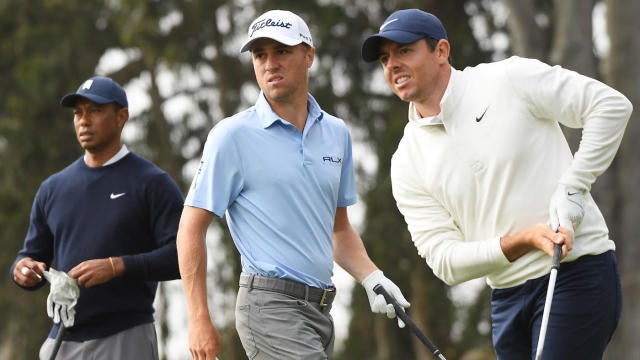 Despite never playing in The Match, McIlroy and Thomas did play in the Payne's Valley Cup in September 2020, a charity exhibition that pitted Woods and Thomas against McIlroy and Justin Rose at Woods' newest design, Payne's Valley at Big Cedar Lodge. McIlroy has also played in a TV skins match at Seminole with Rickie Fowler, Dustin Johnson and Matthew Wolff in May 2020.
Despite Thomas never playing in a Match, he did moonlight as an on-course reporter for the second one, which was Woods and Manning vs. Mickelson and Brady in May 2020. He received rave reviews, but now he gets to pick up the clubs. Luckily he's pretty good in that department, too.