Hair trends come and go but sometimes, just sometimes, the odd gem sticks around forever. One hairstyle that will remain as an 'always' trend, in my eyes, is the 'Tinkerbell'-inspired topknot and today, Millie Bobby Brown proves that it isn't going anywhere.
Taking to Instagram to share her fairy-like hair look, Millie posted a picture of herself posing on (what looks like) a farm gate whilst wearing nothing but a white bra and blue denim jeans. I mean, props to her – she looks so chic.
For her hair, Millie's blonde lengths have been styled up in a messy bun with her dark shadow root showing. And of course, just like Disney's Tink, she is rocking the wispy full-fringe with framing layers at the front sides of her face. It's a hybrid look, combining the undone feel of the Pam Anderson updo with the style and fringe of the 'Tinkerbell' topknot.
In the caption of her post, she writes: "blue jean white t <3" and just like us, her family, friends and fans seem to love the look.
Her friend and co-star of Stranger Things, Noah Schnapp commented: "Ok!!!!".
Whilst TikTok superstar Addison Rae wrote: "YOURE SO BEAUTIFUL".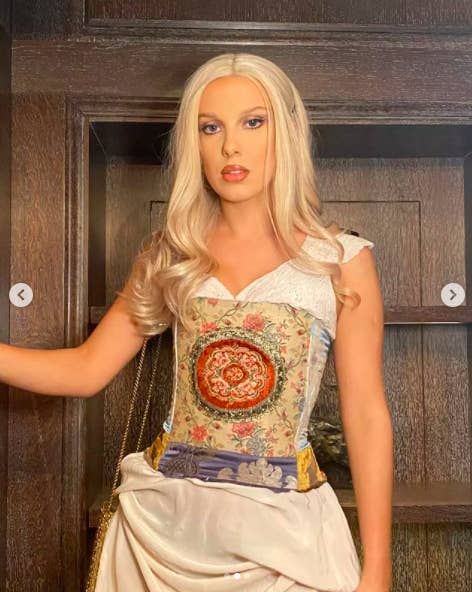 And in reference to that iconic Kendall Jenner quote, her boyfriend, Jake Bongiovi added: "You're cute jeans". Who knew he was such a fan?
Now, let's be clear, this is not – I repeat – this is not the first time we've seen the actor experiment with her hair. At the start of the summer months, we saw Mils sport Kardashian-like mermaid waves and during mid-August, she cut the entirety of the lengths off (or removed the extensions) to reveal a short blunt bob.
As much as we love her summer 'do, we can't wait to see what else Millie serves this autumn.